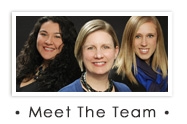 We are not your average real estate team. Our talented team's unique approach and make-things-happen attitude will ensure that your real estate experience is seamless and enjoyable. Whether you are buying your very first home, investing in a rental property, relocating from out of state, or selling your home to upsize or downsize we work our very hardest to help you buy with ease and sell with style! No one can match our enthusiasm, attention to detail, professionalism, creative marketing, use of technology and negotiation skills! Get in touch with us; we'd love to meet you in person.
Carrie Qualters
Real Estate Consultant
Carrie is our listing and real estate expert. If you desire to list your house for sale she will see the project from start to finish. Carrie is a 25 year resident of the Atlanta area. She attended Milton High School in Alpharetta and obtained a BS in Mechanical Engineering from the Georgia Institute of Technology (where she met her wonderful, funny, supportive husband). Carrie worked for several years for a local engineering firm where she designed building mechanical systems and jet fuel distribution systems.
One of her biggest honors was receiving a professional engineering (PE) license, a feat that requires four years of post-degree apprenticeship and a grueling eight-hour test.
How does her work as an engineer transfer over to her calling to be a real estate agent?
"Working as an engineer taught me customer service, project management, teamwork skills, and most importantly communication skills that are used in each real estate project I've taken on for me clients. Each project I've been involved in since moving into the real estate industry has pushed me to be as smart and creative as possible".
"The challenges of real estate transactions, the fun & friendship I have shared with my clients and the business I have built in real estate have made it a career worth having and a life worth living. I hope to share this passion and enthusiasm with you as I work hard to make each of your real estate transactions smooth and enjoyable." ~Carrie